Employers
Working With First Personnel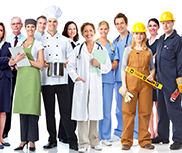 At First Personnel our goal is to be an extension of your human resources department, and provide you with effective and immediate staffing solutions to assist you in keeping pace with your evolving staffing needs.
We will assist you to determine a cost-effective solution that is commensurate with your short-term and long-term objectives. From work force supplementation with outsourced personnel, to reallocation of existing staff members, we can assist you through contingency, consulting, or full-time personnel.
Visualize……
Being able to obtain competent additional staff on short notice when you have a time-sensitive job or unanticipated shortage of hired labour.
Having the ability to hire a full-time worker without spending an inordinate amount of time on advertising, proficiency testing, and screening.
First Personnel is set-up to make operating your business more efficient and cost-effective. We are dedicated and committed to staffing varying levels of manufacturing, administration, transport & logistics, warehousing, food processing, and construction industries. We have employee consultants with in-depth knowledge of these different industries to assist you in locating personnel with the right skill set to meet your needs.
We can satisfy any staffing requirements you have. We are able to facilitate any order large or small. We staff all business levels from start-ups to large corporations.
High-Quality Specialized Personnel
First Personnel will have job candidates undergo an extensive screening process. We assess candidates for job skills, prior work history, and history of attendance. We guarantee that the candidates we present to you are legally authorized to be employed in Australia. You can be assured that you are receiving a candidate with the qualifications you desire. We fully comprehend your need for dedicated and motivated personnel to execute your job assignment.
At First Personnel, we employ consultants with in-depth knowledge of the staffing requirements of the following types of industries: