Manufacturing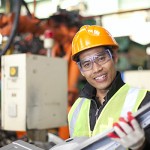 First Personnel is a leader amongst manufacturing recruitment agencies in Melbourne, because our account managers have an in-depth knowledge of local manufacturing and operations market of Australia. We recruit for permanent and temporary jobs at all levels, including product design, development, production, maintenance, management, process development, OH&S and quality assurance.
Our account managers each work within a particular sector of the market such as chemical, metal fabrication and consumer related industrial products. We understand what employers are looking for.
We will guide you through the entire recruitment process. We understand it takes a particular person to fill a particular role. It is this understanding and knowledge of what the client needs and what the candidate is looking for that sets us apart from the competition.
You don't just want an employee to fill the role. You want an employee that is built to fill that role. It doesn't take a genius to understand that happy employees are more productive, punctual, have fewer sick days, and over and above all, safer and ultimately more efficient.
Essentially, putting the right candidate with the right client is what First Personnel is all about. Unlike some manufacturing recruitment agencies in Melbourne, we won't just send you any old candidate who's physically capable of doing the job; we'll link you with staff who have the qualifications, experience and attitude to get the job done right.
Assembly Line
Fitters & Machinists
Industrial Design
Machine Operators
Manufacturing Management
Other
Packers & Fillers
Planning & Scheduling
Process Worker
Product Management & Dev
Purchasing
QA & QC
Sales
Store person & Warehousing
Supervisor
Toolmaker
To experience the First Personnel difference and find out why we're different from other manufacturing recruitment agencies, call (03) 5002 0030 now.