Payroll
Outsourced Payroll Services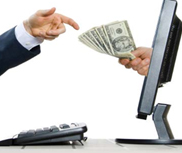 Grab the opportunity to outsource all of your payroll related tasks with First Personnel!
Outsourcing payroll with First Personnel allows you to focus on your core business functions and relieves you of the tedious tasks associated with managing your payroll. As an employer, outsourced payroll services will relieve you from the administration of payroll functions, tax collection and reporting requirements.
Using First Personnel's payroll services will result in significant direct cost savings.Iteliminates the need for employers to spend extratime and effort processing their payroll.
It is important to understand that as an employer, you still retain complete control of your employees. In addition, you enjoy improved flexibility in managing them when you outsource all of your payroll related tasks with us.
Outsourcing payroll services has proven to be popular with a wide variety of businesses. First Personnel is able to handle the following payroll related tasks:
Employee Registration
Payroll and Employee Queries
Weekly Pay-runs
Superannuation
Payroll Tax
Work cover management
Group Certificates
Industrial Relations Compliance
Pay Advice
Electronic Time sheeting (if required)