Food Processing & FMCG
First Personnel –
A Leader amongst FMCG Recruitment Agencies in Melbourne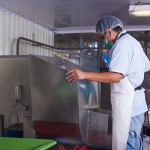 Food processing is a procedure by which raw ingredients are transformed into food. Often, the term is taken to mean the manufacturing of packaged foods. Technically, however, food processing means the procedure of transforming raw ingredients into a food form that is not naturally occurring.
One of the most important concerns in food processing is safety. This is particularly true in industrial processing where packaged foods are manufactured for commercial consumption. Food processing facilities are prone to contamination. When left unchecked even for short periods of time, contamination can spread rapidly, causing an epidemic of illnesses. To make food safe, any potential risks, such as bacteria in dairy products, are removed. In addition, facilities have to observe strict precautions to nullify the risk of contamination during processing.
It is with this understanding why at First Personnel our approach to this industry is for it to have its own Department. Unlike other non-specialist FMCG recruitment agencies in Melbourne, we have dedicated staff with experience in food processing as well as food safety in general. No matter the type or scale of your operation, they'll source reliable staff with the skills, experience and qualifications to fulfil your requirements.
Quality control could not be more important to any other industry than this one. Having the right people is what everybody wants, though the reality is, it's not what everyone gets from their current FMCG recruitment agencies.
The fact is, WE understand EXACTLY what is required of each candidate at every level, starting from those that work on the assembly line to those in management.
Assembly Line
Fitters & Machinists
Industrial Design
Machine Operators
Other
Packers & Fillers
Planning & Scheduling
Process Worker
Product Management & Dev
Purchasing
QA & QC
Sales
Store person & Warehousing
Supervisor
Toolmaker