Construction
Construction Labour Hire in Melbourne with First Personnel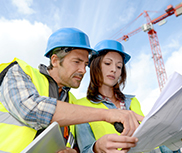 Whether it's an office block, residential unit or civil engineering project – or you simply don't want to knock back that contract for fear of not having the available workforce – First Personnel has the skills, expertise and qualified personnel to exceed expectations. Our specialised construction recruitment team sets us apart from other agencies in Melbourne.
First Personnel's team focuses on the needs and requirements of all of our clients so that the right service and the right individuals are provided for each specific job. We know that every industry has different requirements, which is why we are committed to being experts ourselves. We strive to deliver the best service available throughout the industry and above all — deliver results!
Results-Driven Construction Labour Hire Agency
As one of the most trusted construction recruitment agencies in Melbourne, we know that recruitment can be challenging. Hiring the most qualified personnel for the job is vital to the success of a project, which is why many businesses are turning to construction labour hire companies.
Our skilled and professional recruitment team is client-focused and results-driven. Together with experience in working with vast numbers of skilled trades and labour, we go above and beyond what's offered by other construction recruitment agencies and continue to provide an excellent service.
Often, we are informed by our clients of their satisfaction with the service provided. We make sure to provide excellent customer care and personalised attention to filling each role. Dedicated to never letting a client be unsatisfied with the personnel provided, we guarantee that we will choose the right person for the job.
Our Labour Hire Services
First Personnel caters for all trades and services and will see to it that all candidates have the required licensing and documentation pertaining to local, state and federal laws. All you have to do is let us know what role/s you need filled, and we'll do all the hard work. No sorting through resumes, no excess paperwork, and no nasty surprises!
Whether you need a one-off placement, a team or a complete workforce – we provide reliable and mobile solutions for your every workforce need. A number of our consultants in this department have trade backgrounds. Rest assured these professionals not only speak your language but more importantly, they know exactly what you're looking for: people who can get the job done and more importantly get it done right the first time.
That's why many clients' first choice for a quality construction recruitment agency in Melbourne is First Personnel.
Feel free to give us a call on (03) 5002 0030 if you have any questions.