Warehousing
Warehousing Labour Hire in Melbourne with First Personnel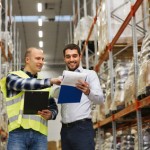 The daily operation of a warehouse requires a dependable work force. It is frequently necessary to have a flexible workforce due to seasonal fluctuations, a response to specific projects and just-in-time procurement processes.
This flexibility does not entail only an increase in head count. You need capable, reliable workers at all times. The constant hiring and rehiring process can be a lot for a company to handle alone. This is why many businesses are turning to warehouse labour hire companies.
Find the Right People
As a leader amongst warehouse recruitment agencies in Melbourne, First Personnel has a commitment to supplying your company with the proper people for your job, not the first available personnel we can find.
At First Personnel we employ consultants with expertise in order fulfilment and warehouse staffing for both non-automated and automated facilities. We can provide you with the workforce that is necessary to compete in the modern marketplace.
Whether you have a single vacancy that requires a specialist for an unanticipated vacancy or you require multiple workers to fulfil a short-term requirement, we can help. Unlike other warehouse recruitment agencies, we don't require our clients to commit to time frames or placements that don't meet their needs. With the expert help of our staff, you'll get the right personnel, when and where you need them.
We undertake a thorough assessment of workers' skills, and backgrounds, and our interviews are behaviour-based. This leads us to identify candidates who have the experience and skill to function well on the job.
Commitment to Excellence
At First Personnel we never lose sight of the fact that the right personnel can positively impact your business. Since your success is actually a reflection of our own success, we are dedicated to providing you with exceptional warehouse labour hire service.
We are committed to providing high-quality workers, and we have a reputation as a leading warehouse recruitment agency. Thanks to our guarantee to get the right person for the role, we are respected in the warehouse industry as a trustworthy source of skilled labour.
Our aim is to be your first choice for a warehouse recruitment agency in Melbourne, providing you with a highly skilled, efficient, reliable and professional labour hire team. Candidates undertake refresher courses and safety training program from time to time.
This ensures you get only reliable, quality workers anytime, anywhere you need them.
We routinely provide the following types of personnel for warehouse operations:
Forklift Operation
Cherry Pickers
Logistics
Hand Assembly
Order Picking and Packing
Material Handling
Shipping and Receiving
Quality Control and Assurance
Administrative Assistant
Management
Dispatch Officers